EASA Certified 8.33 Radios at low prices
After a number of requests, we are now starting to resell 8.33 EASA Certified Transceivers.
We are able to provide very interesting prices with the low VAT that we have in Andorra - this saves you more than 15% in general compared to other European countries (the VAT in Andorra is just 4,5%).
On top of that we can offer even better prices on selected models.
Additional Quantity discount
If you need several radios or can group the order with others, we can offer an additional discount of 5% when you buy 5 radios and 8% if you buy 10 or more radios.
No handling fees
When you shop online for products and you finally find a site that have good prices. You proceed and order the product and just before payment you see that an additional 65 Euro handling fee was added (in addition to the shipment cost). I just hate this kind of experience !
We don't charge any handling fees !
Delivery time
To be able to offer good prices, we need to order larger quantities from the producers. Please indicate how fast you need the products delivered when you order and we will do our best to comply or inform you when we can deliver (if we don't have the products on stock already). In any case, we will not take your payment before we can deliver the products.
Pick up the products in Andorra
In order to benefit from the low VAT of just 4,5% in Andorra, you need to pick up the products at our address here in Andorra. This way you also avoid any shipping costs !
Why not combine it with a day skiing in Andorra or some shopping ?
For smaller orders, we might be able to send them by post also, please ask.
TQ Avionics (Dittel)
The KRT2 radio transceiver
The newly developed Dittel 8.33 kHz generation radio transceiver is small, light, energy efficient and full of innovative digitalization technology. The result of the high degree of digitalization of the KRT2 is not only high frequency stability and channel separation, but also crystal-clear communication.
As a stand-alone transceiver for sport or ultralight aircraft, gliders and balloons or as a backup transceiver for larger aircraft (over 5,7t MTOW), the KRT2 makes radio communication a pleasure on all channels (depending on the quality of the connected headset and remote).
KRT2-S - The new Dittel KRT2 VHF 8.33 radio - low weight, low power consumption, German quality, delivered with EASA Form 1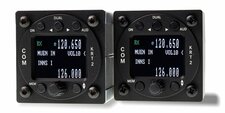 (Dittel KRT2 and KRT2R)
Price: 1.126,- Euro incl. VAT (delivered in Andorra)  (normal price with 20% VAT is 1.362,- Euro - you save 236,- Euro)
Download Dittel KRT2-S Brochure (English)
The Dittel KTX2 Transponder
The newly developed Mode-S Transponder KTX2 incorporates the latest technology – The result is a highly efficient airborne equipment, offering the lowest possible power consumption, smallest dimensions and lowest weight. As a Class 1 Transponder with an operational range up to 35.000ft and 250kt the KTX2 is ideal not only for microlight aircraft and gliders, but also for a major part of aircraft in general aviation up to 12500lbs MTOW (VFR and IFR).
The fully re-engineered KTX2 is a super light-weight, compact Mode-S transponder with low power consumption and a premium TFT-colour display. Regardless of whether it is used in sport, microlight aircraft, gliders or balloons - the KTX2 offers maximum possible safety due to provision of precise position and ID-data for the air traffic control and other air traffic participants. As a result, the KTX2 is a reliable device to prevent collisions.
KTX2-S Class1, Level2 250W Mode-S Transponder - German quality (EASA Form 1 in preparation)
Price: 1.672,- Euro incl. VAT (delivered in Andorra) (normal price with 20% VAT is 2.022,- Euro - you save 350,- Euro)
Contact us to reserve your unit.
We can deliver all Dittel Transceivers and Transponders and accessories at low prices. Please ask for a quote.