Taurus Electro G2.5
Taurus Electro G2.5 is the first and the only electric 2-seat aeroplane in serial production available on the market. It offers complete freedom and independence thanks to the retractable electric engine, double retractable main landing gear, excellent gliding performance, inexpensive maintenance and a well ventilated spacious cockpit.

Taurus Electro G2.5 is the only electric 2-seat aeroplane in serial production available on the market. Furthermore, Pipistrel believes it is the only truly useful electric aircraft out there, because the electric drive is applied to the glider airframe, where battery capacity is not a limiting factor in performance/endurance. Taurus Electro G2.5 represents a leap forward in performance, safety, functionality and user friendliness.
Why the new generation?
Based on extensive testing of the Taurus Electro prototype, we decided not only to refine the product to serial production state, but rather to rethink, redesign and implement completely new solutions into the initial design. The result is what our Research and Development team calls Taurus Electro »Generation 2.5« or G2.5 in short. It is the production version and represents a great step up from the prototype. The aircraft now has much better reliability, handling and performance.
Can electric perform better than conventional? Absolutely!
For the first time electric power outperforms its gasoline-powered counterpart – the Taurus M. Taurus Electro G2.5 can use a shorter runway, climbs faster and is performs much better than the gasoline-powered version when it comes to high altitude operations. All this is possible thanks to the specially-developed emission-free Pipistrel's 40kW electric power-train.
The tailor-developed Lithium-technology batteries come in two configurations, capable of launching the aeroplane to 1200 m (4000 ft) or 2000 m (6500 ft) respectively. They are placed in self-contained boxes, monitored constantly by the super-precise Pipistrel's own battery management system (BMS), compete with data-logging and battery health forecasting.
The propulsion motor weighs an impressive 11 kg (rather than 16 kg) and generates 10 kW more power, resulting in a total of 40 kW. Due to this 33% increase in power and 40% decrease in weight we developed a whole new propeller, which has proven to be more efficient than the version flying on the Taurus Electro Prototype.
More than just a touch of Innovation!
With the Taurus Electro G2.5 we are introducing a World's first - a full set of on-board networked avionics providing for a fly-by-wire powertrain management with built-in multi-layer protection logic. Let us tell you that this represents a great improvement over the system used in the Taurus Electro prototype, where everything was handled by the pilot.
State-of-the-art battery system that uses information from the past to see into the future.
The first element of this networked system is the state-of-the-art hybrid battery management system which was developed entirely in house to be able to function with tighter tolerances than commercially available systems, yielding better performance and longer battery life. The Battery Management system monitors the batteries, which were specially developed to be used in the Taurus Electro G2.5. They represent the absolute pinnacle of today's battery technology, combining low weight, high power and high energy density to levels that seemed impossible as recently as 2009. The batteries are placed in aluminium boxes with dedicated power and signal connectors. Each battery cell's performance is monitored, temperature measured and future performance predicted.
The system is able to forecast when a battery cell is mal-performing and signals the need for a premature replacement. All parameters are also logged in the on-board flight data recorder. The four (4) battery boxes are removable and replaceable.
Power controller
The second element is the power inverter/motor controller. It's location has been moved into the aircraft's fuselage, it has become more efficient and features self-protection logic against current spikes, over temperatures and other potential abnormal situations. In other words, the controller is not only driving the motor, but also providing for the low-level protection of both itself, the batteries and the motor.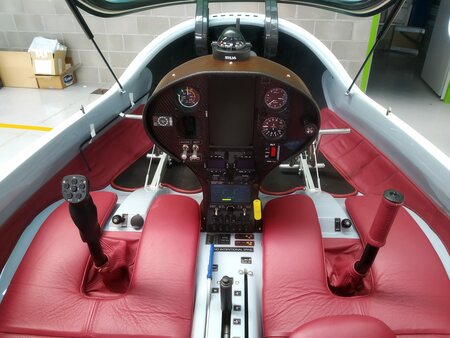 Do you wish to fly for absolutely free? It is possible!
Pipistrel is presenting another World's first – the concept of Flying For Free. Pipistrel developed the Solar Trailer(R), which can charge-up the Taurus Electro G2.5 absolutely free and with zero emissions! Charging with the help of the Solar Trailer offers 1 kW of usable energy, this means charging time 10 hours for 30-Ah batteries and 12 hours for 40-Ah batteries.
Furthermore, when the Taurus Electro G2.5 is stored in the trailer during a week of bad weather, it will still be charged and ready to fly by the weekend. The Solar Trailer and Taurus Electro G2.5 are perfect companions and demonstrate how it is possible to fly free of charge, quietly and with absolutely zero emissions, with today's technology!
The trailer offers both the 12 V connection (to charge your aux. instruments, etc) and 110V/220V connections at front and back of the trailer, where you connect the Taurus Electro G2.5's charger. Also present is the solar-system by-pass, so you can charge the aircraft inside the trailer when parked in the hangar/garage, for example. The buffer battery of the trailer has the capacity of 3 kWh and its energy can be transmitted directly into the Taurus Electro G2.5. The SolarTrailer gathers energy also when you are flying, so you charge the Taurus Electro G2.5 also during the night with the energy that has accumulated during the day!
This changes everything, again.
Pricing (valid from 01/09/2022)
Pricing starts at Euro 127,900,- excl. VAT ex. delivery and registration.
Please Contact us for more information and options.
Taurus Electro G2.5 technical data
| | |
| --- | --- |
| model | TAURUS ELECTRO G2.5  |
| Motor | High performance synchronus 3-phase electric outrunner with permanent magnets |
| power | 40 kW for takeoff, 30 kW contionus |
| PROPELLER | 2 blade Pipistrel 1650 mm diam special for Taurus Electro G2.5  |
| PROPORTIONS | |
| wing span | 14.97 m |
| length | 7.27 m |
| height | 1.41 m |
| wing area | 12.33 m2 |
| rudder area | 0.9 m2 |
| horizontal tail area | 1.36 m2 |
| aspect ratio | 18.6 |
| positive flaps | 5 deg, 9 deg, 18 deg |
| negative flaps | -5 deg |
| center of gravity | 23% - 41% |
| WEIGHTS | |
| empty weight (includes standard battery!) | 306 kg |
| minimum pilot weight | 60 kg |
| maximum total pilots weight | 220 kg |
| max take off weight (MTOW) | 450 kg / 472.5 kg / 550 kg |
| weight of std battery system | 42 kg |
| weight of optional battery system | 59 kg |
| PERFORMANCES | |
| stall with flaps | 63 km/h |
| stall without flaps | 71 km/h |
| manoeuvring speed | 163 km/h |
| max. speed with flaps extended | 130 km/h |
| max. speed with airbrakes extended | 225 km/h (extend at or below 160 km/h) |
| max. speed with powerplant extended | 160 km/h |
| VNE | 225 km/h |
| min.sink | 0.70 m/sec |
| min.sink speed | 94 km/h |
| max. sink with airbrakes | 6.0 m/sec @ 100 km/h |
| best glide | 1: 41 |
| best glide ratio speed | 107 km/h |
| best glide at 150 km/h | 1: 33 |
| best glide at 180 km/h | 1: 23 |
| max towing speed | 150 km/h |
| 45°-45° roll time | 3.9 sec |
| take off run MTOW | 160 m |
| take off over 15 m MTOW | 245 m |
| best climb speed | 100 km/h |
| max climb rate (MTOW) | 3.1 m/sec |
| relative climb (elevation independent!) | 1100 m (4000 ft) / 2000 m (6000 ft) |
| max load factor permitted (x1,8) | +5.3g -2.65g |
| max load factor tested | + 7.2g - 7.2g |
Taurus Electro is made in highest technology composites (epoxy resin, glass fibre, carbon fibre, kevlar fibre and honeycomb structures). The airfoil used on wings is ORL 170, (F. Orlando).
Pipistrel reserves the right to revise the above data whenever occasioned by product improvement, government/authority regulations or other good cause.
The design basis follow the strictest EASA CS-22, CS-VLA and CS-23 (sections), as well as rules applicable to ultralight/microlight aircraft (LTF-UL 2003, etc.) and ASTM-LSA standards.
Ultralight/Microlight certification basis varies from country to country, therefore the actual certificated data may be different from stated above. Please check the certifications link.
Resources
Technical Data
Price List