Taurus M
Taurus M is the World's first side-by-side ultralight powered glider! It offers complete freedom and independence thanks to the retractable engine, double retractable main landing gear, excellent gliding performance, inexpensive maintenance and a well ventilated spacious cockpit.
Taurus M is the only two-seat glider with a 15-meter wing-span and it is also the most independent in operation. Equipped with a powerful, yet fully retractable high-performance 50 HP fuel engine and double retractable main undercarriage, the Taurus can go gliding wherever and whenever you want. When others will be waiting for a helper to connect the tow rope and hold the wingtip for take-off, you will already be far away and flying for hours in the Taurus M.
Worth noting is also the ease of assembling the glider. Taurus is the easiest 2-seat glider to assemble, due to its automatic control connections and the fact that one wing only weighs 40 kg (90 lbs).
Powerful take-off and climb
From take-off to 500 m (1650 ft) she only needs 3 minutes, 6 minutes to 1000 m (3300 ft) and 10 minutes to 1500 m (5000 ft). Then, reaching target altitude you shut down and retract the engine at a flick of a switch - literally. It may seem unspectacular but Taurus outperforms even single-seat self launching gliders when it comes to take-off and climb!
Gliding performance
Gliding takes on a new meaning when you start taking advantage of the excellent 1:41 glide ratio coupled with 5 flaperon settings and head to your next waypoint… Flying is much more fun in the side-by-side cockpit arrangement where you can easily share tasks with your copilot, conduct lessons or simply small talk with your friend.
Klaus Ohlmann, multiple gliding World Record holder, speaks about Taurus:
"Taurus has some great advantages, which originate from the ultralight world:
the glider has enough space in the cockpit for two very large pilots
side-by-side seating arrangement is a real reward in comparison to the tandem-seating. Flying the Taurus is a lot more fun.
the ballistic total-rescue system is huge advantage when compared to conventional motorgliders
taxi with the double-wheel undercarriage is a luxury, especially for training flights
the overall quality and finish is surprisingly good
it has self fitting connections for all flight controls - big plus !
although being an ultralight, the glider feels like a real glider
Taurus will definitely convince some of the ultralight pilots to start gliding
the price is about 50% of what you would pay for another self-launching two-seat glider.
I am positive that the Taurus will be a success story in the world of Gliding!"
Safety
Safety is our primary concern. This is why Taurus features the Safety Cockpit Concept. The entire cabin area is encased with energy absorbing structures made from Kevlar fibre, an amazing material which maintains the integrity of the cabin and makes it safe also in case of stronger impacts. Together with our special Safety Cockpit Concept the Taurus can also be equipped with the ballistic parachute rescue system, which saves the complete aircraft together with the crew in case of severe emergencies.
Intelligent engine control system
The intelligent engine control system will do everything by itself, making sure the propeller has positioned itself correctly and retracting the engine for you, while you concentrate on finding that perfect lift! Built-in safety will even prevent inadvertent start-up or retractions of the engine!
A vroom with a view
The cockpit of the Taurus is very long and comfortable. Even the really tall pilots will have no problems fitting inside. Side-by-side seating arrangement makes communication between the pilots perfect, unlike conventional tandem two-seaters. Full dual controls are reachable to both pilots and the pedals, seats, headrest and ventilation can be adjusted to suit your body size and needs in just seconds, also during flight. A special ergonomically shaped instrument panel houses all the instruments you will ever want without obstructing the excellent view in all directions. There are side pockets for each pilot and a roomy baggage compartment behind the seats with space for an oxygen system as well.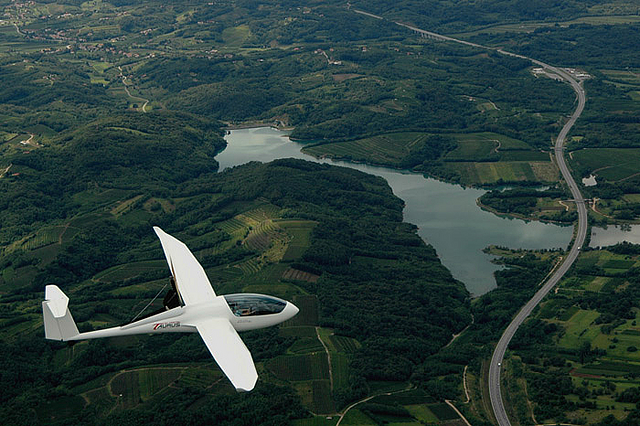 Electric powered
Have you ever wondered what is it like to fly all electric? Virtually silent and vibriation free? With no emissions whatsoever and for the fraction of the the usual cost? Now you can! The Taurus Electro G2 is exactly the answer you are looking for !
Pricing (Updated 01/09/2022)
Pricing for Taurus M start at Euro 110,200,- excl. VAT ex. delivery and registration.
Please Contact us for more information on options and pricing.
Taurus M technical data
| | |
| --- | --- |
| model | TAURUS |
| ENGINE | High performance 2-stroke 50 HP |
| max power (with 2 carb.) | 53 hp at 6600 rpm |
| PROPELLER | 2 blade Pipistrel 1600 mm diam |
| SIZES | |
| wing span | 14.97 m |
| length | 7.27 m |
| height | 1.41 m |
| wing area | 12.33 m2 |
| rudder area | 0.9 m2 |
| horizontal tail area | 1.36 m2 |
| aspect ratio | 18.6 |
| positive flaps | 5 deg, 9 deg, 18 deg |
| negative flaps | -5 deg |
| center of gravity | 23% - 41% |
| WEIGHTS | |
| empty weight | 285 kg |
| minimum pilot weight | 60 kg |
| maximum total pilots weight | 220 kg |
| max take off weight (MTOW) | 450 kg / 472.5 kg |
| fuel tank capacity in the wing | 30 l |
| useful fuel | 27 l |
| PERFORMANCES | |
| stall with flaps | 63 km/h |
| stall without flaps | 71 km/h |
| manoeuvring speed | 163 km/h |
| max. speed with flaps extended | 130 km/h |
| max. speed with airbrakes extended | 225 km/h (extend at or below 160 km/h) |
| max. speed with powerplant extended | 160 km/h |
| VNE | 225 km/h |
| min.sink | 0.70 m/sec |
| min.sink speed | 94 km/h |
| max. sink with airbrakes | 6.0 m/sec @ 100 km/h |
| best glide | 1: 41 |
| best glide ratio speed | 107 km/h |
| best glide at 150 km/h | 1: 33 |
| best glide at 180 km/h | 1: 23 |
| max towing speed | 150 km/h |
| 45°-45° roll time | 3.9 sec |
| take off run MTOW | 180 m |
| take off over 15 m MTOW | 265 m |
| cruising speed with 75% power | 120 km/h |
| best climb speed | 100 km/h |
| max climb rate (MTOW) | 2.9 m/sec |
| service ceiling MTOW | 3,900 m |
| max load factor permitted (x1,8) | +5.3g -2.65g |
| max load factor tested | + 7.2g - 7.2g |
| fuel consum. at full power | 18 lph |
Taurus is made in highest technology composites (epoxy resin, glass fibre, carbon fibre, kevlar fibre and honeycomb structures). The airfoil used on wings is ORL 170, (F. Orlando).
Pipistrel reserves the right to revise the above data whenever occasioned by product improvement, government/authority regulations or other good cause.
The design basis follow the strictest EASA CS-22, CS-VLA and CS-23 (sections), as well as rules applicable to ultralight/microlight aircraft (LTF-UL 2003, etc.) and ASTM-LSA standards.
Ultralight/Microlight certification basis varies from country to country, therefore the actual certificated data may be different from stated above. Please check the certifications link.
Resources
Technical Data
Price List